Missed the latest issue of CADC Magazine. Read it online NOW (including smartphones, Iphones, and Ipads!!). You can download it, print it .. and link to the advertisers!!!
If your own copy of the CADC magazine, go to the free subscription page noted in the header above.
ONLINE LINK IS is at http://www.CADC.ca/cadcmag/fall2011
This issue found us at the Canadian Underwater Conference in Vancouver. The west coast of Canada has always been THE place to be for underwater "toys" …. But it isn't the exclusive wet brain trust location for Canada and CADC members – it's everywhere!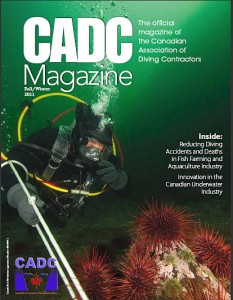 From submarines to underwater excavators to new ways of pouring underwater concrete, Canadian underwater technology has always been right up there with the best of them for innovation and crafty ideas to solve an underwater problem. Some of the ingenious solutions over the past covered the gamut from electronics and things that lit up and whirred – to simple solutions that may have simply been – frankly – just a long stick!!! (Hey, if it works, don't knock it!!) .
This issue showcases some of those companies involved in the technology of solving underwater problems and gives the reader a little insight on what is going on in the skunkworks of those CADC companies. From Nuytco Research's high tech atmospheric diving systems to Dominion Diving's data vault project, one thing is certain – there is a lot of creative thinking going on.
The aquaculture and fish farming industry is BIG business which utilizes diving services and techniques on both of our coasts. The scope of these operations varies from moonlighting recreational divers using inadequate sport scuba techniques to professional full service commercial outfits. It can be a very dangerous business if not done right. Have a read on how proper safety, training, techniques and operations can save lives in that industry – but are steps being taken to enforce standards and regulations to make it work to reduce diving accidents and deaths?
The Divers Logbook!! Sport divers use a log book to log dives of their underwater exploits and establish bragging rights on how deep! How long! How many!!! It's great to throw that thick dog-eared journal on the dive shop counter to win the "I've-done-it-better" contest that divers always seem to start when two or more divers gather around a beer.
In the commercial diving industry – the log book is your experience log. It is document that leads to better jobs and can even be used as a legal document. Dave Geddes (CADC Director) tells how important it is to keep a log book current – your career as a commercial diver depends on it.
Hyperbaric chambers used in field operations are not simply a tube filled with air and oxygen that can be "kicked around". Josh Boisvert of the Centre de médecine de plongée du Québec gives some insight on the care and feeding for this life support gear. Don't take it lightly!
We hope you enjoy this issue and pass it around to others. If you don't have a (FREE) subscription to the magazine – go the CADC website (CADC.CA) and sign up for some copies.
Dive safe, stay safe and participate — it's YOUR industry.
ONLINE LINK IS is at http://www.CADC.ca/cadcmag/fall2011