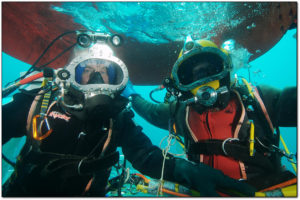 The "Infrastructure Health and Safety Association' (IHSA – formerly the CSAO) has completed arrangements to offer a Diving Supervisor Training program in conjunction with Mr. Dave Geddes (DCBC certified course instructor) . The course concept of joint partnership in its presentation was proposed by the CADC during discussions with the Ontario Commercial Diving Trade Labour Management Health and Safety Committee. The committee consists of members of both labour and management involved in the Ontario commercial diving industry and meets four times per year to discuss issues in the industry. The committee identified a need for the supervisors course and CADC proposed the partnership with stakeholders to make it a reality. The concept had worked in the past with involvement and partnerships with the CADC,CSAO (IHSA), MOL and others.
As previously explained, the course will be a 5 day program consisting of two parts i) the (2 day) IHSA Basics of Supervising program and ii) (3 Days) Diving Specific instruction. IHSA's Basics of Supervising will be a pre-requisite to take the Diving Specific component of the program that is being provided by Dave Geddes.
In an effort to allow sufficient time for completion of the IHSA Basics of Supervising program the 3 Day Diving component of the Diving Supervisor Training program has been scheduled for March 1st, 2nd, and 3rd at the IHSA Training Centre at 21 Voyager Court in Etobicoke.
The IHSA Basics of Supervising (pre-requisite) program can be taken at any of the locations across the province as indicated on the IHSA course schedule prior to March 1, 2017. Please click hear to select the date and location of your choice – https://www.ihsa.ca/Training/Courses/Basics-of-Supervising.aspx. The Basics of Supervising program is available at no cost to IHSA members and I strongly recommend that you register for a program convenient for you as soon as possible, as these programs fill very fast. Contact at IHSA is Georoge Iacono (GIacono@ihsa.ca)

Registrations for the Diving Component of the program taking place March 1, 2, & 3 – 2017 must be done directly with Dave Geddes (Dave is offering the program at a reduced cost of @ $600.00) by forwarding an email to Dave at dwgeddes@sympatico.ca.
Again you are encouraged to register for both programs sooner than later and the Diving Component of the program is limited to a maximum of 15 participants.