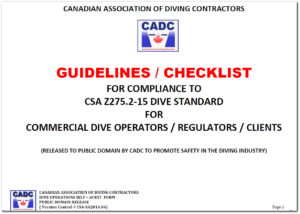 CADC Member Companies – as a condition of membership – have agreed to comply with all regulations as set out by the authority having jurisdiction or – in the absence of regulations – to observe as a minimum the standards as identified in current CSA Z275.2 Occupational Safety Code for Diving Operations + CSA Z275.4 Competency Standard for Diving Operations.
This guideline / checklist form been released to the public domain for all in the industry by the CADC to promote safety awareness of this diving standard. It is a worksheet based on CADC's self-audit program to CSA Z275.2-15 Occupational Safety Code for Diving Operations that was initiated by the group in January 2017. The Compliance Guideline / Checklist can be used by diving contractors, clients hiring diving contractors or regulatory authorities as a tool to determine compliance to the current standard.
This self-check audit also serves as a check list to re-affirm that operations comply to the current CSA dive safety standard and identifies short-falls for the operator to aid in adjusting operations to insure standard compliance. The intent is to ensure that all diving operations operate to a standard recognized by responsible operators as the absolute minimum level needed to protect the underwater worker and support personnel.
DOWNLOAD THE GUIDELINES / CHECKLIST HERE: GUIDELINES CHECKLIST FOR COMPLIANCE TO CSA Z275.2-15 STANDARD PUBLIC DOMAIN VERSION CADC Self-Audit VER # CSA-SA2016.04
For further information or questions, contact
Canadian Association of Diving Contractors
Doug Elsey, Exec. Director
6382 Coachford Way, Mississauga, Ont. L5N 3V8
Phone: 905.542.7410 Fax: 905.567.6703 (email: info@cadc.ca )