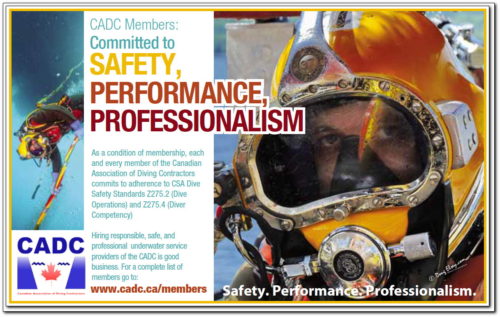 (CADC MAG SPRING-SUMMER ISSUE PRE-PRINT)
As of January 1st, 2017 – CADC ramps up its initiative for a common nation wide dive standard by initiating the first phase of its Diving Safety Self-Audit Program based on current CSA diving standards recognized by the CADC and its members as being one of the best minimal diving safety standards available both nationally as well as internationally.
A requirement by CADC members to follow current CSA Dive Standards Z275.2 and Z275.4 in the absence of regulations as a minimum level of safety has always been a requirement of membership in the organization
Diving Operations involve a unique combination of occupational health and safety issues performed in an unforgiving environment where errors can quickly develop into fatal accidents. Individual risks must be managed if diving is to be conducted in a safe and efficient manner.
Following a recognized diving standard is recognition of the requirement for minimum safe dive standards for all professional diving services providers to end the confusion as to what is acceptable within our industry for the protection of our workers. Anything less is viewed as jeopardizing safety and is in potential criminal violation of Canadian Bill C-45 on the legal requirement to protect the worker. The CSA Z275 Diving Standards fulfills this requirement as a good place to start.
The CADC Diving Safety Self-Audit Program consists of a declaration of compliance and is in the form of a guideline / checklist based on the current CSA Z275.2-15 Diving Operations standard. The pertinent line items have been transposed onto a table for ease of confirming code compliance. If codes are found to be non-compliant comment space has been provided to identify how and when the requirement will be met.
This self-check audit serves as a check list to re-affirm that operations comply to the current CSA dive safety standard and identifies short-falls for the operator to aid in adjusting operations to insure standard compliance. It serves as a tool to ensure that all diving operations operate to a standard recognized by responsible operators as the absolute minimum level needed to protect the underwater worker and support personnel.
FAQs on CADC's Diving Safety Self-Audit Program
Q: Why do a safety audit?
A: A safety audit ensures that a diving firm is operating in a safe manner and in compliance with provincial or offshore regulations in the areas of operations. Or – as a minimum – will be based on the current CSA Diving Standards 275.2 (Operations) and 275.4 (Competency) if no other regulation or standard are in place.
Clients hiring diving or underwater services need assurances that the firms they are hiring follow minimum safe diving practices recognized by the industry. In Canada – in absence of provincial or federal regulations or standards – one of most highly regarded operational standards are the CSA Z275 series of Dive Standards. Companies operating under these standards provide a level of assurance to the client that the operations carry out follow strict minimal industry safety standards. CADC members – as a condition of membership – have signed off that they follow these minimum standards (in the absence of provincial/federal regulations) as a baseline in their operations. They may operate under more stringent standards beyond the minimum as a company policy or as required by the client – but do follow at least a minimum standard in ALL operations.
Q: Is this a requirement for membership to the CADC?
A: Yes, it is. There has always been a requirement for compliance to CSA Standards as a condition of membership in the CADC in absence of regulations. The provision of the Statement of Compliance to the standards and the guidelines simplifies this requirement. (Starting in 2017, all new members will be required to submit the statement of compliance on their application or list deficiencies (and date of anticipated corrections to these deficiencies.)
Q: What will the safety audit be based on?
A: The safety audit will be based on the CSA Diving Standards 275.2 (Operations) and 275.4 (Competency) as a minimum if no other regulation or standard is in place.
In a self-audit, a form / checklist has been provided to the members by the CADC in the form of a guideline to determine compliance to the standard. On completion, the form will be sent back to CADC and placed in the members file. All information is confidential and is kept by the Executive Director.
Q: Who is going to pay for an audit?
A: In the case of a self-audit, there is no external cost associated with the audit as the contractor does it in-house. In the case of having the audit done by an auditor, the cost of the audit will be covered by the member being audited. On request, an auditor experienced in diving safety audits can be sent from a location nearest the contractor to assist in the audit. CADC may add on a small admin charge but it is envisioned that the audit will be at cost only. This is not intended to be a money-making proposition by CADC – the focus is safety and accountability to adhere to safety standards.
If the audit is done correctly the member will derive the benefits in having a complete list of all deficient items, instructions on how to correct them. It can be the firm's blueprint to compliance and should be approached with that in mind. This is not a "pass/fail" audit as the goal of the audit is to determine deficiencies – if any – and provide suggestions on how to eliminate them in order to comply.
Q: What if a member company does not comply? What happens?
A: Our industry and organization is based on professionalism, trust and the goal of making the industry safe for our workers. All effort will be made to help the member identify deficiencies in their safety program to achieve a recognized level of safety and aid them in correcting the deficiencies. Ignoring compliance to these minimum safety standards can result in termination of CADC membership if not corrected in a timely manner. There are no exceptions.
Q: I have already done an audit as required by my client. Do I have to do it again?
A: No, as long as the safety audit covers the pertinent requirements of the CSA Z275.2-15 items of the CADC / CSA diving audit and meet or exceed it. Refer to audit you have done, check off the compliance declaration of our audit, and attach or reference it on the CADC Safety Audit as compliant
Q: Is this part of the mission by CADC to have a single standard across the country?
A: DEFINITELY!! Recognition and compliance to a single minimum diving standard across the country avoids confusion in different jurisdictions and increases safety for the worker.
Q: If this is Phase One, then what is Phase Two – or beyond?
A: Phase Two may be for mandatory third party audits for compliance. There is a lot of merit to this. It is being done in other jurisdictions …….
Participate – it's YOUR industry.
For further information or inquires, contact the CADC (website: www.CADC.ca)