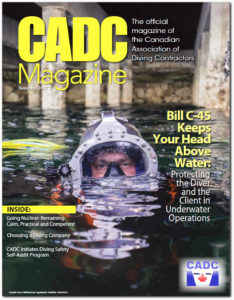 (CADC MAG SUMMER 2017 – DIGITAL EDITION)
"There are old divers – and there are bold divers. But there are very few old, bold divers"
Commercial diving and the supply of underwater services is a serious business. Things have come a long way from "the good ol' days" hard hat diver to the introduction of SCUBA in commercial operations to light weight gear to the mixed gas to offshore gear. Lots of changes and evolution of the industry. And of course, there was (and sometimes still is) the day of the surface supplied diving with a two man dive crew!
One incident (Id rather like to forget – circa 1970's)) was when I received a call from the dive site where the diver tender – all out of breath – reported his diver whom he was tending from shore had his hose trapped under a pile that he had just finished cutting off. No standby diver. No cell phone (he called from a pay phone !) – and I was at least 45 minutes away in the office. How was he going to get the diver ashore as the compressor was low on fuel?? Being "divers", their solution was to move the compressor closer to shore to give the diver more slack. The diver pulled in more hose and surfaced on the far side of the pile that was pinning his hose. He then dumped his helmet after removing his harness points – and then swam ashore!!! Doing stuff like that was all "legal" at the time! In Canada, it was incidents like this that fueled the upgrading of the CSA Dive Standards.
The evolution of these CSA Dive standards is covered by Ian Rodd in his position as the chairperson of the main technical committee for the CSA Z275 Diving Standards. We have come a long way – and a lot further to go too.
As far as we have progressed, we hear continually of safety violations in our industry. As educated as the diving industry is about safety, there are still holdouts who cut safety to lower costs to win a bid. Clients – many ignorant of legislated safety standards and guidelines – see only the money and hire the lowest bidder figuring that if something happens during a dive operation, that it is the contractor's problem. Nothing could be further from the reality of who is to blame if there is an accident. Bill C-45 exists.
In Canada, Bill C-45 is a legal requirement about protecting the worker. There is no doubt about it that our industry has its inherent risks. These risks are mitigated by risk analysis of the stakeholders in the project – everyone from the diver to the diver supervisor to the client are involved. But what happens if it is ignored? In many cases, the client may simply not know the risks involved and see only the costs involved – the lowest bid. Or they just ignore them. Dave Geddes enlightens us about the statues in Bill C-45 and the implications of ignoring the law. It is about the seriousness of NOT protecting the worker – either deliberately or by ignorance. It is a criminal offense with far reaching implications for a client and all involved in the operation – including imprisonment.
Protecting the diver in hazardous environments includes special procedures for diving in contaminated environments such as in nuclear plants. Jerome Dion of the Mistras Group outlines the procedures involved in diving in these conditions .
Another contaminated environment is the topic of our project spotlight that focuses on the team at Advanced Subsea Services working on the North Surrey Interceptor Sanitary Sewers. Learn more about this project, including how they deal with challenges—like working in a flowing sanitary sewer deemed a Hazmat environment and not suitable for human occupancy.
Diver education and training has been conducted at the Canadian Working Divers Institute facility in Chapleau Ontario for the last 25 years. Gord Hay fills us in on what's new at CWDI – well known for its unique approach in training techniques. A tough boot camp for divers comes to mind – and it really is!! This school is quite unique and puts out damn good people!
Our spring/summer issue also talks about "Guidelines on hiring of Professional Diving Contractor – what you need to know." Know who you are hiring when you need the services – all diving contractors are not alike. Doing your homework on who you hire can mitigate serious issues if something goes wrong. Bill C-45 violations are serious. Compliance to CSA Dive Standards is a good first step.
As of January 1st, 2017 – CADC initiated the first phase of its Diving Safety Self-Audit Program based on current CSA diving standards recognized by the CADC and its members as being one of the best minimal diving safety standards available both nationally as well as internationally. Read what it is all about.
This issue will be distributed at the Annual General Meeting of the CSA Standards / Dive Committees in Halifax in June.
ED NOTE: As we go to press (JUNE 2017), we learn today the Nova Scotia Ministry of Labour has laid charges against a diving company involved in the death of diver Luke Seabrook in July 2015. Will there be convictions? How far does Bill C-45 go in determining responsibility of those involved in this incident? We will have to see in future months as this evolves. Diving is serious business. Be safe. Dive Safe. Protect your workers. It's the law.
DOWNLOAD THE MAGAZINE HERE: CADC MAG SUMMER 2017