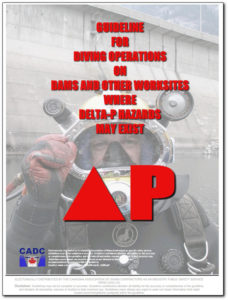 Luke Seabrook died in 2015 by being partially sucked through a tidal power control gate. It wasn't a difficult job – but it certainly was a dangerous job if basic safety procedures around the structure were ignored or taken lightly. He wasn't the first to succumb to this type of accident – and sadly he will most likely not be the last. This accident could have been prevented.
Occupational Health and Safety statistics reveal that a very high proportion of occupational diving fatalities occur because of divers encounters with differential pressures at dams and other work sites. Furthermore the investigations of these tragic incidents indicate that the majority of these encounters were preventable.
The guideline – authored by industry experts – is in the form of a safety guideline from the CSA and primarily intended to assist owners, employers, diving supervisors and divers with a basic understanding of the forces associated with Delta P, methods in detecting Delta P hazards, lock out procedures, selection of appropriate diving equipment and procedures to prevent diver exposure to Delta P forces.
In addition, this guideline will also offer some guidance with respect to some limited rescue options, for a diver, from a delta P entrapment.
The document is distributed for free by the CADC and CSA to try and prevent accidents such as the one experienced by Luke Seabrook.
This document is available free from the CADC website. Know what you are doing around dam sites and delta-P situations. It is a killer. It can happen to you. It is something we can prevent.
Download the complete guideline HERE.
Save