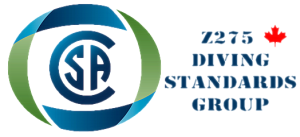 The important CSA Z257 Occupational Diving and Hyperbaric Environments Committee (the Dive Standards Committees) will take place on November 7 – 9, 2017.
This is the group that formulates the Dive Standards for CSA. These standards may be adapted as regulation in the Canada.
These meetings will be held at the CSA Office in Toronto, ON (178 Rexdale Blvd.).
Following is the schedule for these meetings:
Nov. 7 1:00 p.m. – 4:30 p.m. Z275.1 SC, Hyperbaric Facilities
Nov.7 5:00 pm – 6.00 p.m. Seneca College Advisory Committee Meeting
Nov. 8 8:30 a.m. – 12:00 noon Z275.4/.5 SC, Diving Competency and Diver Training
Nov. 8 1:00 p.m. – 4:30 p.m. Z275.2 SC, Safety Code for Diving Operations
Nov. 9 8:30 a.m. – 10:15 a.m. Z275.3 SC, Work in Compressed Air Environments
Nov. 9 10:30 a.m. – 12:30 p.m. Technical Committee Meeting
Interested stakeholders are welcome to attend the meetings as guests on contacting CSA project manager Dave Shanahan <dave.shanahan@csagroup.org>