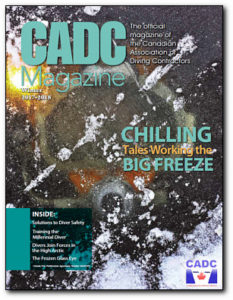 As I wrote this, we were just into the first part of December, and this country has rain on the coasts, snow in the mountains, green grass in the middle, with temperatures ranging from +15˚C to -30˚C all over the place. All at once, we have rain, slush, snow and green grass. Gotta love this country. The sure thing in the great white north is the drastic weather changes that forge toward a Canadian winter. (Update: DEC was one of the coldest months every recorded in Canada in a lot of places)
This is that dangerous time of year when contractors are rushing to get projects finished before the really bad weather moves in, or by the end of the year. It's that transition time, with water turning to ice, temperatures dropping below zero in a heartbeat, and machinery and dive gear freezing up. It's Canada. Be careful!
A tremendous amount of work has gone into the formulation of dive standards and regulations in Canada. Safety expert Dave Geddes ponders on the frustration of putting all the effort in if they are simply not enforced!
On that same note, David Parkes of the Diver Certification Board of Canada discusses the key to diver safety being in the hands of three groups. Proactive efforts by these three groups would go a long way to ensuring a safer industry. Find out who these groups are and what they can do to make it happen.
Our company profile this issue focuses on Canada Pump and Power. Based out of central Alberta near Edmonton, CPP is no stranger to the winter cold on the Canadian prairies. That being said, nothing could prepare Jeremy Leonard for the weather in Tuktoyaktuk, NWT, where the wind chill regularly drives temperatures below -50˚C. Yup, it's Canada at its best, and CPP is up to the challenge.
Dive training facilities rise to the challenge of preparing the millennial diver for work in our industry. With a work ethic quite different from the "old days," Kelly Koral of DiveSafe International differentiates the divers of this generation and what the industry needs to do to make a smooth transition into a rewarding vocation.
Divers have stories. LOTS of stories. Dive into any group of divers sitting around with a beverage in their hand, and you will hear them start—and seemingly never end. Every story usually ends with a comment like, "That was nothing! You should have heard of the time we…," and it goes deep into the night. We asked our members if they had any stories to tell and we were deluged with tales that usually started with the phrase, "There I was." One submission certainly was a chilling one (we asked for "cold" stories to fit this winter issue of the magazine). The story needed to be told in its entirety. Dave Porter from Nuytco Research / Can-Dive tells of a story "way back in the day" entitled The Frozen Glass Eye. The other stories in this issue are just as exciting! You gotta read them! (Editor's note: There are more stories to come in upcoming issues!)
Operating underwater in our high Arctic takes more than just wearing a set of warm woollies. Logistical issues in such a remote environment is a serious challenge. This article tells of such an operation that took place recently in Canada's North, as a team from Fleet Diving Unit (Atlantic) once again deployed to Op NUNALIVUT, an Arctic surveillance and control operation held annually since 2007.
An update on the Luke Seabrook death (see www.cadc.ca for full details). The company, Paul's Diving Services, was fined $34,000 and ordered to provide 15 safety presentations by October 2018. Seabrook's death could have been avoided if proper procedures had been followed. Hopefully, the safety presentations by the company on "lessons learned" will prevent tragedies in the future. We will be monitoring this.
This issue of CADC Magazine will be distributed at the Underwater Intervention in New Orleans, from February 6 to 8, 2018, and at the Canadian Underwater Conference & Exhibition, from March 25 to 27, 2018 in Vancouver, BC.
The winds have picked up outside. It's starting to snow. Winter—it's here. Stay safe.
DOWNLOAD YOUR COPY HERE!! 2017-18 WINTER CADC MAG FINAL SM