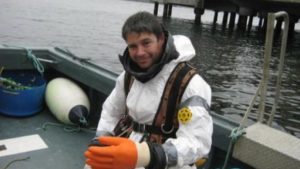 (Pre-Print from CADC Mag Winter 2017-18) Thirty-nine-year-old Luke Seabrook from Dartmouth, NS, was killed on the job on July 15, 2015 as he was inspecting an underwater dam gate at the Nova Scotia Power plant in Annapolis Royal. He died when he was sucked into a gap under the gate, which should have been closed. This tragic accident was totally avoidable, and, in my mind, there are three groups who can work together to reduce the risk of such an accident ever happening again.
The first line of defense for diver safety is the diving supervisor. To paraphrase the Canadian Standards Association's (CSA) Occupational Safety Code for Diving Operations, each diving operation shall be conducted under a competent diving supervisor, whose primary duties shall include planning the dive(s), briefing the crew on subjects that include emergency procedures, ensuring all necessary equipment is provided and in good operating condition, and supervising the entire diving operation. The supervisor must remain on the dive site for the duration of the diving operation.
However, although the supervisor is in charge of the dive and in direct control of the safety of the diver, it is the contractor who hires the supervisor; therefore, he is responsible for this first line of defense. It is the contractor who must ensure the supervisor is competent, experienced and certified. An unscrupulous contractor could, if left unchecked, appoint someone inexperienced and incompetent as supervisor in order to save a few bucks. In that case, when the contractor leaves the site there is, effectively, no one to keep the diver safe.
It is also the responsibility of the contractor to ensure all diving operations are conducted (at a minimum) according to CSA Z275.2 and that all personnel can prove competence as described in CSA Z275.4.
The second line of defense is the provincial regulator, either the Ministry of Labour (MOL) or the Workers Compensation Board (WCB). If the provincial regulator has good regulations, and enforces them using such tools as inspectors who are trained in diving matters, and Notices of Project (NOP), which will advise inspectors where diving is to take place, they can have a huge impact on diver safety. For the regulations to be effective, they should be based on the Canadian Standards Association's (CSA) Safety Code for Diving Operations (CSA Z275.2) and their Competency Standard for Diving Operations (Z275.4). Better still, instead of being based on those standards, they should cite them directly and in their entirety by ambulatory title; i.e with no mention of date of issue. Alberta, Manitoba, Newfoundland & Labrador, and Prince Edward Island have all built their regulations in that manner. Four other provinces cite Z275.4 in full.
But the big issue in relation to provincial regulation is enforcement, and to have effective enforcement we need NOPs for all diving operations, as is the case in Ontario and BC. The NOP doesn't have to be a big deal; just an e-mail to the MOL or WCB at least 24 hours before diving begins would suffice. Then, at least the contractor would know the inspector knows where to find him and could show up at any time.
The contractor or, better still, groups of contractors in each province, could work together to encourage provincial authorities to ensure CSA standards are used in provincial regulations. It is much harder for a politician to resist a call for more regulation when it comes from the people in the industry being regulated.
Finally, comes the client. The company that puts out a request for proposal for diving services should have some idea what they are asking for. If a municipality, corporation, or small business needing to hire a diving contractor understands the CSA standards and insists that diving contractors operate according to those standards, they can reduce their exposure to risk significantly. When they ensure that their engineers have some knowledge of diving matters those engineers would be better able to supervise a diving contract safely. We should also ask insurers of these clients to require them to understand and refer to the CSA standards when contracting for diving services.
Contractors can help educate their clients. One possible way would be to submit a "working philosophy" document with each job tender and request that the client require all contractors who tender for contracts do the same. The "working philosophy" document would outline the contractor's intent to use only workers who hold current competency certification applicable to their positions, that the contractor would have a dive plan, that the contractor will conduct a job safety analysis before each diving project and consider possible conditions such as Delta P, contamination, entrapment, etc. In this way, the client would have something against which to measure other contractors as well as some level of guidance on how to oversee the dive site.
Organizations such as the Canadian Association of Diving Contractors and the DCBC could contact major clients across Canada to advise them of the availability of inshore diving safety specialists, who could provide assistance in preparing them for dive projects. We could also advise them of the availability of accredited diver training establishments that would be willing to provide short diving oversight courses for their engineers.
Without a doubt, the most important contributor to occupational diver safety is the diving contractor. Members and non-members of CADC alike must ensure they follow the standards laid out in the CSA's Safety Code for Diving Operations (275.2) as a minimum level of safety. They should also work actively with provincial authorities and major clients to make it impossible for contractors who won't follow CSA standards to stay in business.
The Canadian Underwater Conference & Exhibition (CUCE) will take place in Vancouver at the end of March 2018. Perhaps that would be a good opportunity for diving contractors to come together to discuss how they, collectively, can help improve the safety climate surrounding occupational diving in Canada.
Article by David Parkes, M.Ed., is CEO of the Diver Certification Board of Canada (DCBC). Prior to helping create the DCBC in 2002, he served for 35 years in the Canadian Coast Guard (CCG) including two years as a senior examiner of marine engineers and seven years as director of the CCG College.
DOWNLOAD THE ENTIRE MAGAZINE – 2017-18 WINTER CADC MAG FINAL SM