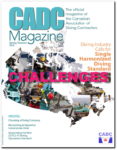 (PrePrint: CADC Mag Winter 2016-2017)
The quest by our diving industry to implement one single national diving standard across the country got a big boast this fall when Provincial and territorial labour ministers gathered for an annual meeting with federal Labour Minister MaryAnn Mihychuk in Prince George, B.C., in September 2016.
On the agenda was . . . → Read More: One Country – One Dive Standard: Federal Govt pushes for harmonized Health and Safety across Canada.